FUNDING URBANISM
28th of October 2014 – 1st of November 2014
Deutsches Architektur Zentrum DAZ, Köpenicker Str. 48/49, 10179 Berlin-Mitte
Details at http://www.wonderland.cx
Contact Daniela Patti and Levente Polyak at projectspace[at]wonderland.cx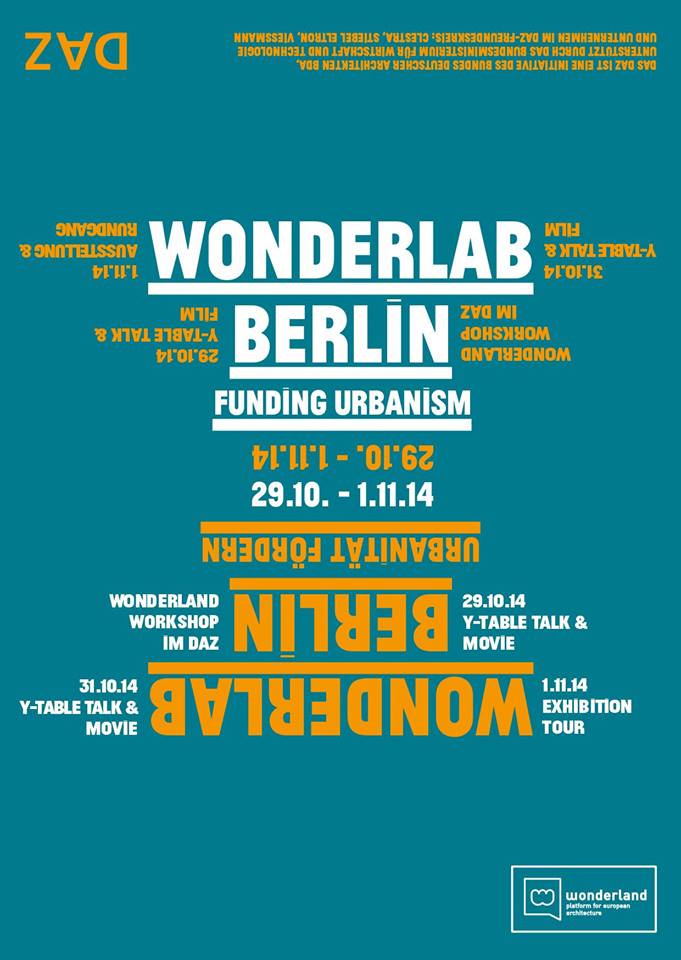 In the past decade, as an effect of the economic crisis and social movements, many actors in the architecture and planning fields recognized that traditional funding models lost their capacity to feed small-scale, community-oriented urban projects. While designers elaborated new methods to address problems of community, participation and ecology, they also created alliances with a new generation of developers, economists, as well as law specialists to experiment with new models for funding urbanism.
For Wonderlab Berlin, Wonderland invited protagonists of the new civic economy from various European cities to join the Funding Urbanism Berlin workshop: 4 days of site visits, presentations, debates and screenings, as well as an evolving exhibition.
Wednesday, OCT29
19-21h Recovering Resources: presentations and roundtable discussion with LCC (Rotterdam), T Spoon (Rome), Architettura Senza Frontiera (Milano), Stealth (Amsterdam/Belgrade) and Fatkoehl Architekten+Urban Catalyst (Berlin). With the participation of Stefanie Raab (Coopolis, Berlin), Luke Haywood (Deutsches Institut für Wirtschaftsforschung, Berlin) and Michael Lafond (id22 Institut für kreative Nachhaltigkeit, Berlin)
21h MOVIES IN WONDERLAND: "Life in the Coffin Factory", D.: Alexander Dworschak, Michael Rieper, Christine Schmauszer. A 2013, 48 min. OmeU"
Friday, OCT31
19-21h Organizing Regeneration: presentations and roundtable discussion with Ramon Marrades (Valencia), Urbego (Copenhagen), SIC (Madrid), Ateliermob (Lisbon), Homebaked (Manchester), Kristien Ring (Berlin) and Bostjan Bugaric (Ljubljana-Berlin). With the participation of Tore Dobberstein (Complizen, Berlin) and Francesca Ferguson (Urban Drift, Berlin)
21h MOVIES IN WONDERLAND: Selection of short films on "Funding Urbanism"
Saturday, NOV1
11h guided tour at the exhibition