FLOWS & FUNDING – INVITATION
August 23, 2014
The Schieblock, Rotterdam
At the close of 2014 International Architecture Biennale of Rotterdam (IABR) and on the eve of the opening of the partly crowdfunded Luchtsingel or Air Canal, PAMFLET Urban Debate (Rotterdam), New Generations (Madrid) and wonderland platform for european architecture (Vienna) look to merge some of the lessons from the current biennale about the urban metabolism with some of the emerging questions of the upcoming biennale about the next economy.
For the first event of the Funding Urbanism series, wonderland invites protagonists of this new economic movement to share their concepts and case studies of architecture and planning initiatives in experimenting with, or elaborating alternative, community-based funding models to finance urban regeneration projects at various scales. The experiences presented on Skype and in person will range from crowdfunding, seed-investment, cooperative financing, community land and development trusts, community shares, community investment, development trusts and social finance.

Saturday 23 August
10.00-14.00   Excursions by bicycle to significant urban initiatives successfully funded by alt. means:
– Katshoek, ZoHo, Post Office (urban development)
– Uit je Eigen Stad (urban farm) (tbc)
– Jeanne van Heeswijk / Wijkcooperatie Afrikaanderwijk (tbc)
– Kluswoningen Duyststraat (Urbannerdam) (tbc)
Lunch
14.00-18.00   Pitches, presentations, interviews by and with local and international experts of urban flows and alternative forms of funding. The event partners take turns in hosting:
14.00-15.00   Wonderland: interviews with developers, economists and law specialists who are actors and protagonists of alternative funding models for urban regeneration projects at various scales
Presentation by Ramon Marrades (University of Valencia, Urbego) on social economy and urban development in Southern European cities
Skype interviews by
Bryan Boyer (Brickstarter, Sitra, Helsinki)
Daniela Brahm (Ex-Rotaprint Berlin)
Gorka Espiau (Young Foundation, London)
Jas Bains (Ashram Housing Association, Birmingham)
Break
15.15-16.15   New Generations: pitches by young designers, curators and developers
Marteen Desmet and Tim Devos (ndvr, B)
Thomas Dieben (Denieuwegeneratie, NL)
Alison Killing (Killing Architects, NL)
Marco Lampugnani (Snark Space Making, Italy)
Chanfang Luo (Architecture In Development, NL)
Dario Tundo and Lorenzo Cristoforetti (IRA-C collective, Italy)
Break
16.30-17.15   Round table
Indira van 't Klooster (A10 new European architecture)
Bernardina Borra (the spontaneous city, Amsterdam)
Gonzalo Herrero Delicado (UK)
Brendan Cormier (VOLUME)
Vera Sacchetti (superscript)
17.15-18.15   Pamflet: interviews with NL architects, economist, civic representatives on funding
Marthijn Pool (Space and Matter architects, NL)
Jan Jongert (Superuse Studios, NL)
Douwe Jan Joustra (Circular Economy)
Alexander Keizer (Urbannerdam) (tbc)
Break
18.30-19.30   Dinner with informally moderated break-out discussions per topic, informal networking
Break
20.00-21.00   Flows & Funding Talk Show
                              Followed by drinks
VENUE
BAR, Schieblock
Schiekade 201, 3013 BR Rotterdam, the Netherlands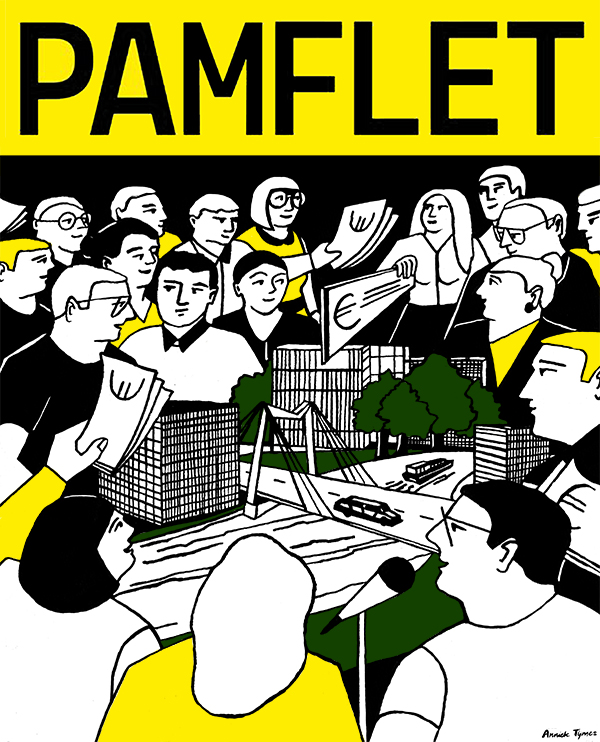 More information:
The FUNDING URBANISM series
Pamflet Rotterdam
Contact
http://www.wonderland.cx/
projectspace@wonderland.cx