Stücke des Widerstands – Pièces de résistance
Ausstellung 28.5.-9.7.2011 

Di-Fr 16-20 Uhr, Sa 14-18 Uhr // Eintritt frei

Vernissage Freitag, 27. Mai 2011, 20 Uhr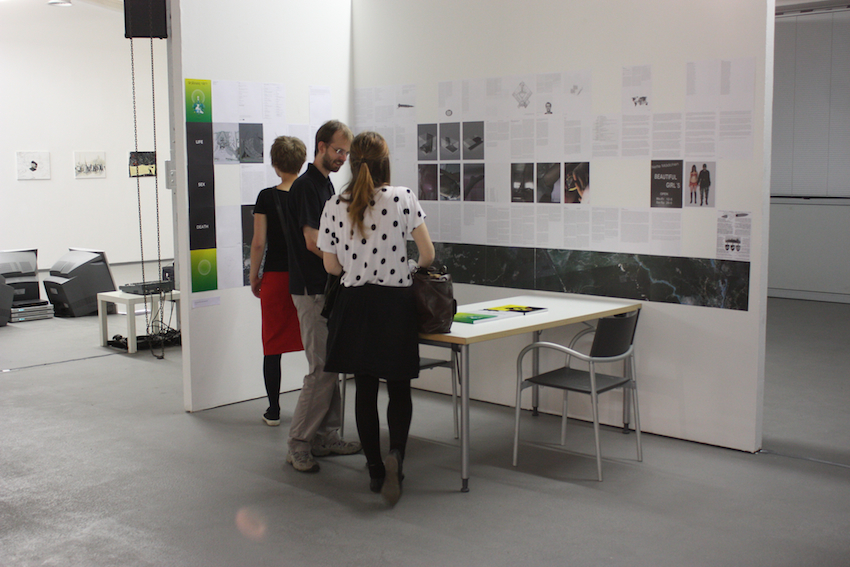 Seit einigen Jahren ist eine neue Generation von Kunstschaffenden zu beobachten, die sich in ihrem Werk mit Machtstrukturen im weitesten Sinne beschäftigt und die ihr Schaffen als eine Form von Widerstand gegen die Apparaturen von Macht versteht.
Doch was bedeutet 'Macht' für diese Generation und was 'Widerstand'? Was motiviert sie? Manche dieser Kunstschaffenden setzen sich inhaltlich dezidiert mit spezifischen politischen Konstruktionen auseinander und analysieren Kontrollmodelle oder Repräsentationen von Macht, während sich andere auf daraus resultierende übergeordnete Zusammenhänge konzentrieren.
In der künstlerischen Formulierung von Kritik am Bestehenden, im Aufzeigen von Missständen oder Alternativen sind Sprache, Inhalt und Konzept häufig gekoppelt und die Grenzen zwischen künstlerischer Inszenierung und politischer Tat verschwinden. Die Kunst greift so direkt ins Leben ein und ihre Leistung ist es, ästhetisches Bewusstsein, Bürgersinn und Widerstandsgeist zu wecken.
Mit 'Pièces de résistance' nimmt die Motorenhalle Dresden eine punktuelle Bestandesaufnahme der Formen des politischen Widerstands in der heutigen Kunst vor und präsentiert verschiedenste Arten der Annäherung an das Thema in unterschiedlichsten Medien. In Dresden wird der Fokus der Ausstellung auf diesbezügliche Entwicklungen in den Szenen der ost- und zentraleuropäischen Staaten gerichtet, wo die gesellschaftliche Situation nach der Öffnung eine Grundkonstellation für das heutige Kunstschaffen darstellt.
KünstlerInnen_ Akademia Ruchu, PL | Die Planung / A Terv, H/D | Angela Lubic, D | Bettina Pousttchi, D | Calin Dan, NL | Ciprian Muresan, RO | Csaba Nemes, H | Else Gabriel, D | Erik Dettwiler, CH | Gintaras Makarevicius, LT | Ion Grigorescu, RO | Jirí Kovanda, CZ | Kristina Leko, HR | Marina Gržinic, Aina Šmid & Zvonka Simcic, SLO | Martin Krenn, A | Mona Vatamanu & Florin Tudor, RO/CH | Nina Höchtl, A | Oliver Ressler, A | Silke Wagner, D | Siniša Labrovic, HR | Thomas Galler, CH | Zbynek Baladrán, CZ
'Stücke des Widerstandes' entstand in Kooperation mit Andrea Domesle (CH) und Michal Kolecek (CZ) und auf Grundlage von deren 'Ausstellung Why do you resist? Forms of resistance in comtemporary art and society', die bereits in Graz (Forum Stadtpark), Usti nad Labem (Emil Fila Gallerie), in Thun (Kunstmuseum Thun, Pori (Pori Art Museum) und Bialystok (Arsenal Gallerie) gezeigt wurde.
Die Namensänderung der Dresdner Ausstellung ergibt sich aus der starken Erweiterung dieser ursprünglichen Präsentation durch Frank Eckhardt.